Game Description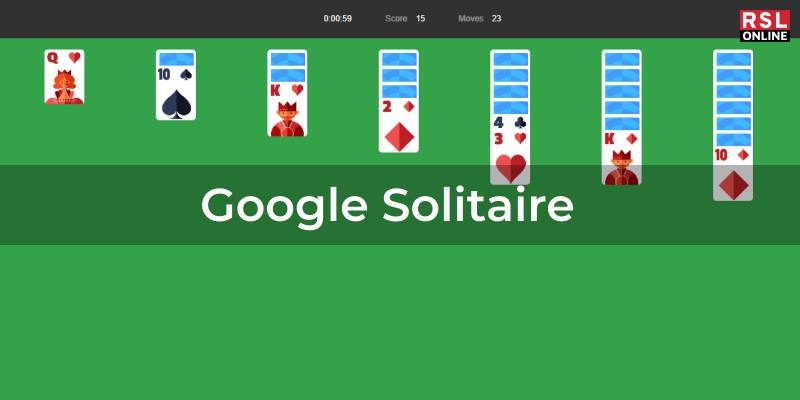 Google Solitaire is a classic card game brought to you by Google, allowing you to enjoy a game of solitaire directly from your web browser. It's a simple yet engaging game that can help pass the time and test your card-playing skills.
Game Controls
Playing Google Solitaire is easy, thanks to its straightforward controls:
Mouse: Use the mouse to click and drag cards to move them.
How to Play Google Solitaire
Learn how to play Google Solitaire and enjoy a relaxing card game:
Objective: The goal is to build four foundation piles, one for each suit, starting with Ace and ending with King.
Setting Up: A standard deck of 52 cards is used. The cards are shuffled and dealt into seven tableau columns, with one card in the first column, two in the second, and so on, up to seven cards in the last column.
Card Movement: You can move cards from the tableau columns to create descending sequences of alternating colors. For example, you can place a red 7 on a black 8.
Empty Columns: When a tableau column becomes empty, you can fill it with any King or a valid sequence starting with a King.
Building Foundations: As you uncover Aces, place them in the foundation piles. Then, build on the foundation piles in ascending order, following suit. For example, after placing the Ace of Hearts, add the 2 of Hearts, then the 3 of Hearts, and so on.
Winning: You win the game when you successfully move all cards to the foundation piles, following the Ace to King sequence for each suit.
Tips and Tricks
Enhance your Google Solitaire skills with these helpful tips:
Plan Your Moves: Think strategically and consider the consequences of moving each card. Plan several moves ahead.
Empty Columns: Try to create empty tableau columns early on to give you more maneuverability.
Uncover Aces: Focus on uncovering and placing Aces in the foundation piles as soon as possible.
Reveal Hidden Cards: Whenever possible, prioritize revealing face-down cards in the tableau.
Game Developer
Google Solitaire is a classic card game provided by Google. It's a part of their collection of interactive doodles and games.
Game Platforms
Mobile Devices: Download the game on iOS and Android devices to play on the go.
How to Play Unblocked
To play Google Solitaire unblocked, follow these steps:
Official Website: Visit the official Google homepage (www.google.com) and search for "Google Solitaire" in the search bar. You'll find the game as a search result.
Browser Extensions: Some web browser extensions and add-ons can help unblock websites and games if they are restricted on certain networks.
Mobile Apps: You can also enjoy Google Solitaire on mobile devices by searching for "Google Solitaire" in your device's app store and downloading the official app.
Google Solitaire is a delightful way to enjoy a classic card game without the need for physical cards or installations. It's a perfect choice for a quick break or to unwind after a busy day. Have fun playing!