Game Description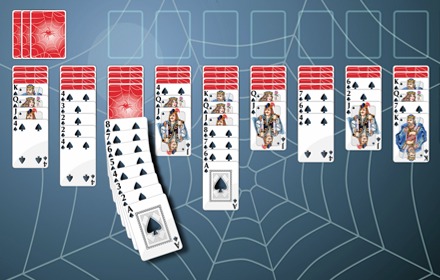 Spider Solitaire is a classic card game that tests your patience and strategic thinking. Arrange the cards in descending order and clear the tableau to win the game.
Game Controls
Familiarize yourself with the game controls to become a Spider Solitaire master:
Mouse: Use the mouse to interact with and move the cards.
How to Play Spider Solitaire
Learn how to play Spider Solitaire step by step:
Objective: The goal is to clear the tableau by arranging the cards in descending order from King to Ace, all in the same suit.
Setting Up: Spider Solitaire is played with two decks of cards (104 cards total). The cards are initially dealt into ten tableau piles.
Card Movement: You can move cards of one rank to another tableau pile if they are in descending order and of the same suit. For example, you can place a 7 of hearts on an 8 of hearts.
Empty Spaces: When a tableau pile is empty, you can fill it with any card or sequence of cards.
Building Runs: Your main objective is to create complete runs of cards in descending order. When you create such a sequence, it gets removed from the tableau.
Dealing New Cards: If you get stuck and cannot make any more moves, you can deal new cards from the remaining deck to the tableau.
Winning: You win when you successfully clear all tableau piles. The game is challenging, so be patient and plan your moves carefully.
Tips and Tricks
Improve your Spider Solitaire skills with these tips:
Plan Ahead: Think several moves ahead and try to uncover hidden cards strategically.
Empty Piles: Aim to create empty tableau piles as early as possible to give you more flexibility.
Don't Block Suits: Avoid covering cards of the same suit unless you have no other choice, as this can limit your options.
Expose Hidden Cards: Whenever possible, prioritize revealing face-down cards, as this can open up new possibilities.
Game Developer
Spider Solitaire is a classic card game that has been included in various Windows operating systems over the years.
Game Platforms
Mobile Devices: Download the game on iOS and Android devices to play on the go.
How to Play Unblocked
To play Spider Solitaire unblocked, follow these suggestions:
Official Websites: Visit official gaming websites that offer Spider Solitaire as a free online game.
Browser Extensions: Some web browser extensions and add-ons can unblock games and websites that are restricted on certain networks.
Mobile Apps: Download Spider Solitaire apps from official app stores on your mobile device and play without restrictions.
Spider Solitaire is a challenging and addictive card game that can provide hours of entertainment. Whether you're a seasoned player or new to the game, it's a great way to test your card-playing skills and strategic thinking. Enjoy the classic solitaire experience!