Game Description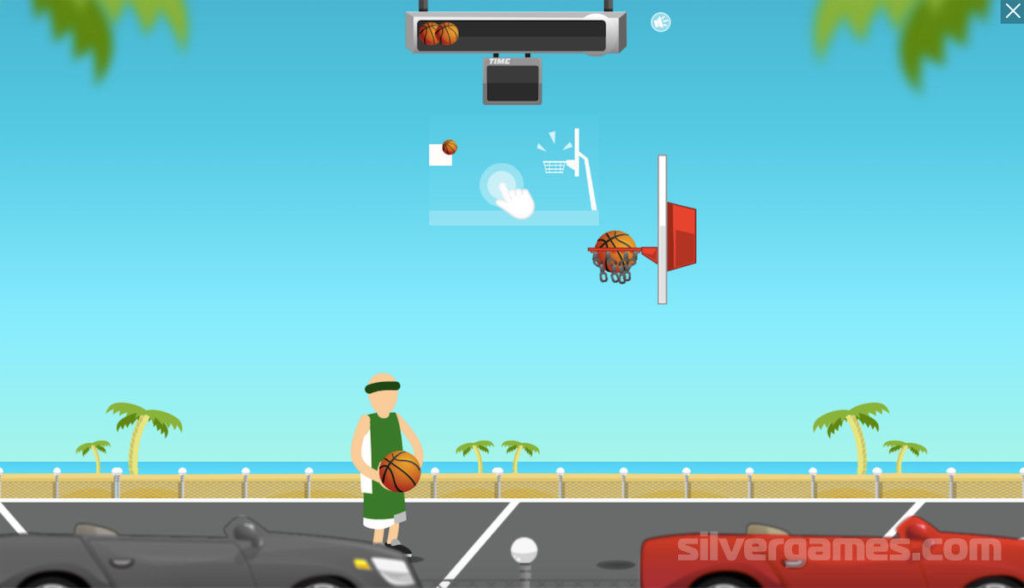 Street Ball Jam is an exhilarating basketball game that brings the excitement of street hoops to your screen. Get ready to showcase your slam dunk skills and aim for the highest scores in this addictive gaming experience.
Game Controls
Mastering the game is a breeze with these simple controls:
Mouse/Touchscreen: Aim the basketball by clicking and dragging.
Left Mouse Button/Release: Release to shoot the ball.
Spacebar/Tap (on mobile): Jump to perform a dunk.
How to Play Street Ball Jam
Street Ball Jam is all about honing your slam dunk prowess. Here's a step-by-step guide:
1. Launch the Game
Start the game on your chosen gaming platform.
2. Select Your Player
Pick your favorite basketball player from the roster.
3. Objective
Your mission is to score as many points as possible through spectacular slam dunks.
4. Aim Carefully
Utilize your mouse (or touchscreen) to aim the basketball. A trajectory line aids in visualizing your shot.
5. Shoot with Precision
Release the mouse button (or tap the screen) to shoot the ball. Timing is crucial for an accurate dunk.
6. Execute the Dunk
While in mid-air, press the spacebar (or tap the screen) again to perform a slam dunk. Ensure your aim is spot on to earn points.
7. Combo Mastery
String together successful dunks to build combos and unlock bonus points. More intricate dunks result in higher scores!
8. Power-Up Hunt
Keep an eye out for power-ups scattered across the court. These can boost your abilities or provide extra points.
9. Time Management
The game moves swiftly, so you must make quick decisions. Efficiently manage your time to maximize your score.
Tips and Tricks
To become a Street Ball Jam pro, consider these tips:
Practice your timing to consistently achieve perfect dunks.
Experiment with different players, each offering unique abilities.
Prioritize power-ups to gain an edge.
Accumulate combos for substantial point boosts.
Stay alert and react promptly to changing game dynamics.
Game Developer
Street Ball Jam is brought to you by "Jam Studios," a renowned game development company celebrated for their innovative and entertaining mobile and web-based games.
Game Platforms
You can savor the Street Ball Jam experience on various platforms, including:
Web: Play the game directly within your web browser.
iOS: Download it from the App Store.
Android: Find it on Google Play.
Whether you're a casual gamer seeking a quick basketball fix or a competitive player aiming to conquer the leaderboards, Street Ball Jam offers endless hours of fun and excitement. Grab your basketball and embark on a dunking journey to victory!