Game Description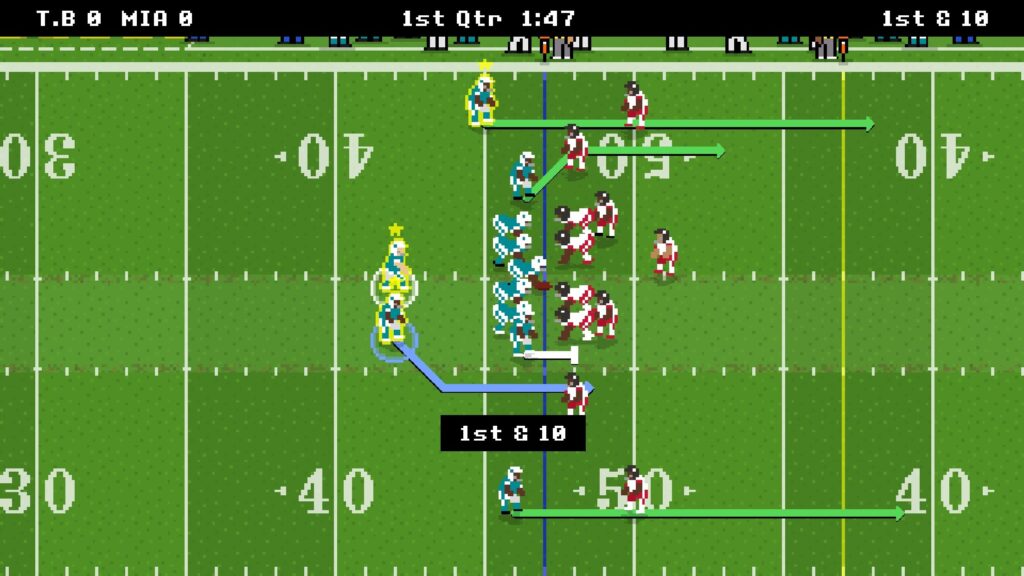 Tecmo Bowl is a classic American football video game known for its fast-paced gameplay and iconic retro graphics. Developed and published by Tecmo, this game was originally released in arcades in 1987 and later became available on various home gaming consoles.
Game Controls
Tecmo Bowl features straightforward controls to enhance the gaming experience. Here are the controls typically used for the game:
Directional Pad (D-Pad): Use the D-pad to control the movement of your players both on offense and defense.
A Button: The A button is used for actions such as snapping the ball (offense) or tackling (defense).
B Button: On offense, the B button is typically used to pass the ball. On defense, it's used for diving tackles.
Please note that specific controls may vary slightly depending on the version and platform you're playing on.
How to Play Tecmo Bowl
Tecmo Bowl captures the essence of American football in an accessible way. Here's how to play:
Select Your Team: Start by choosing one of the available NFL teams. Each team has its own strengths and weaknesses based on real-life counterparts.
Offensive Play: When on offense, you'll choose plays from a playbook. Execute runs, passes, and other offensive maneuvers to advance the ball down the field.
Defensive Play: On defense, you'll control individual players to try to stop the opposing team from scoring. Tackle the ball carrier or intercept passes to regain possession.
Scoring: Your objective is to score touchdowns (6 points) by carrying the ball into the opponent's end zone or field goals (3 points) by kicking it between the goalposts. Extra points can be scored by kicking after a touchdown.
Game Progression: Tecmo Bowl is known for its fast-paced gameplay. The game consists of several rounds, and the team with the most points at the end wins.
Tips and Tricks
Here are some tips to help you excel in Tecmo Bowl:
Know Your Team: Understand the strengths and weaknesses of your chosen team to make the most of their abilities.
Mix Up Plays: Keep your opponent guessing by using a variety of offensive and defensive strategies.
Watch the Clock: Manage the game clock effectively to control the tempo and secure victories.
Master Pass Timing: Timing is crucial for successful passes. Practice your passing skills to connect with receivers.
Play with Friends: Tecmo Bowl offers exciting multiplayer action. Invite friends for head-to-head matches.
Game Developer
Tecmo Bowl is developed and published by Tecmo, a renowned video game company known for various classic titles across different genres.
Game Platforms
Mobile Devices: Download the game on iOS and Android devices to play on the go.
How to Play Unblocked
To play Tecmo Bowl unblocked, you can use emulators and ROMs available online. However, it's important to ensure that you are using legitimate copies of the game and adhering to copyright laws and licensing agreements when doing so. Many retro gaming platforms also offer legitimate ways to play Tecmo Bowl on modern devices.
Now that you have the information and controls, dive into the action-packed world of Tecmo Bowl and experience the excitement of retro football gaming!