Game Description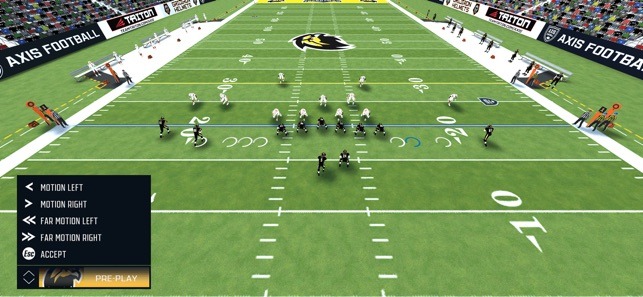 Axis Football League is an engaging American football simulation game that allows you to build and manage your own football team. Compete against other teams and lead your squad to victory in thrilling football matches.
Game Controls
Axis Football League offers simple and intuitive controls to make your football gaming experience enjoyable. Here are the controls:
Arrow Keys: Use the arrow keys to control player movement on the field.
Spacebar: Press the spacebar to snap the ball (start the play), kick the ball, or perform various actions depending on the context.
A, S, D: These keys are used for actions like diving, sprinting, and stiff-arming during gameplay.
Esc: Press the Esc key to pause the game and access in-game options.
How to Play Axis Football League
In Axis Football League, you take on the role of a football team manager and compete in various football leagues and tournaments. Here's how to play:
Choose Your Team: Start by selecting your team from a list of available options. Each team has its own strengths and weaknesses.
Manage Your Roster: Manage your team's roster by selecting players for different positions, such as quarterback, running back, wide receiver, and defensive players. Consider player stats and attributes when making your choices.
Gameplay: Participate in matches against other teams. You can control your players on the field using the arrow keys and execute plays by snapping the ball with the spacebar. Make passes, run the ball, and play defense to secure victory.
Playbook: Customize your playbook by selecting offensive and defensive plays. Experiment with different strategies to outsmart your opponents.
Advance in the League: Compete in league games, win matches, and progress to higher divisions. Your ultimate goal is to become the champion of the Axis Football League.
Upgrade Your Team: Earn currency by winning games and completing objectives. Use this currency to upgrade your team, improve player skills, and unlock new plays.
Challenges and Tournaments: Participate in special challenges and tournaments for additional rewards and a chance to prove your team's skills.
Tips and Tricks
Here are some tips to help you excel in Axis Football League:
Study Your Opponents: Pay attention to the strengths and weaknesses of your opponents. Adjust your game plan accordingly.
Upgrade Wisely: Invest in player upgrades strategically. Focus on positions that need improvement the most.
Master Play Calling: Understanding when to use different plays is crucial. Mix up your offensive and defensive strategies to keep your opponents guessing.
Practice Your Skills: Spend time in practice mode to hone your player control and play execution.
Game Developer
Axis Football League is developed by Axis Games, a game development studio specializing in football simulation games.
Game Platforms
Mobile Devices: Download the game on iOS and Android devices to play on the go.
How to Play Unblocked
Axis Football League can often be played unblocked on gaming websites. If you encounter any restrictions, consider using a virtual private network (VPN) or seeking out alternative websites that host the game without access limitations.
Now that you have the information and controls you need, step onto the virtual football field and lead your team to gridiron glory in Axis Football League!