Game Description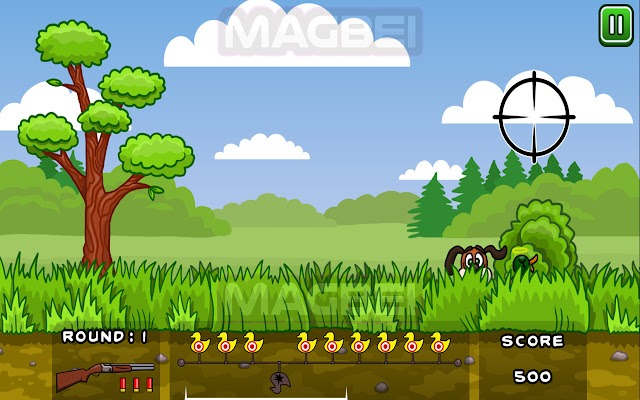 Duck Hunt is a classic shooting video game that was originally developed and published by Nintendo for the Nintendo Entertainment System (NES) in 1984. The game gained immense popularity and became a beloved classic in the world of video games.
Game Controls
Duck Hunt is known for its simple yet engaging controls. If you're playing the original NES version, you'll need the NES Zapper light gun accessory. Here are the controls:
NES Zapper Light Gun: Aim at the screen and pull the trigger to shoot.
How to Play Duck Hunt
In Duck Hunt, your objective is to shoot down ducks as they fly across the screen. Here's how to play:
Start the Game: Turn on your NES console and insert the Duck Hunt cartridge. If you're playing a modern emulator or version, follow the on-screen instructions.
Aim and Shoot: When the game starts, ducks will appear on the screen, flying in various patterns. Use the NES Zapper to aim at the ducks and pull the trigger to shoot.
Duck Variations: Ducks come in different colors and sizes, and they fly at different speeds. Some are easier to hit than others.
Ammo and Shots: You have limited ammo, represented by the number of shots you can take. Make each shot count, as you'll need to hit a certain number of ducks to advance to the next round.
Round Progression: The game consists of multiple rounds, each with a set number of ducks to shoot. As you progress, the game becomes more challenging, with faster and more elusive ducks.
Dog Companion: After each round, a dog appears to retrieve the ducks you've shot. The dog's actions can be amusing and sometimes frustrating, depending on your performance.
Scoring: You earn points for each duck you successfully shoot. The game keeps track of your score, and you can aim to beat your high score in subsequent rounds.
Game Over: The game ends when you run out of ammo or fail to shoot the required number of ducks in a round.
Tips and Tricks
Here are some tips to improve your Duck Hunt skills:
Practice Your Aim: Precise aiming is crucial. Spend time honing your accuracy to increase your chances of hitting ducks.
Predict Duck Movements: Ducks follow specific flight patterns. Learn to anticipate their movements to aim ahead of them.
Pay Attention to Your Shots: Be mindful of your remaining shots and use them wisely. Don't waste shots on ducks you can't hit.
React Quickly: Ducks can appear suddenly and move swiftly. Keep your reflexes sharp.
Game Developer
Duck Hunt was developed and published by Nintendo, one of the most renowned and influential video game companies in the world.
Game Platforms
Mobile Devices: Download the game on iOS and Android devices to play on the go.
How to Play Unblocked
To play Duck Hunt unblocked, you can find emulated versions of the game on legitimate websites and emulators. Many websites offer browser-based versions of Duck Hunt that you can enjoy without any restrictions.
Duck Hunt remains a timeless classic that continues to entertain gamers of all ages with its simple yet addictive gameplay. Test your aiming skills and see how many ducks you can shoot down in this iconic shooting game.